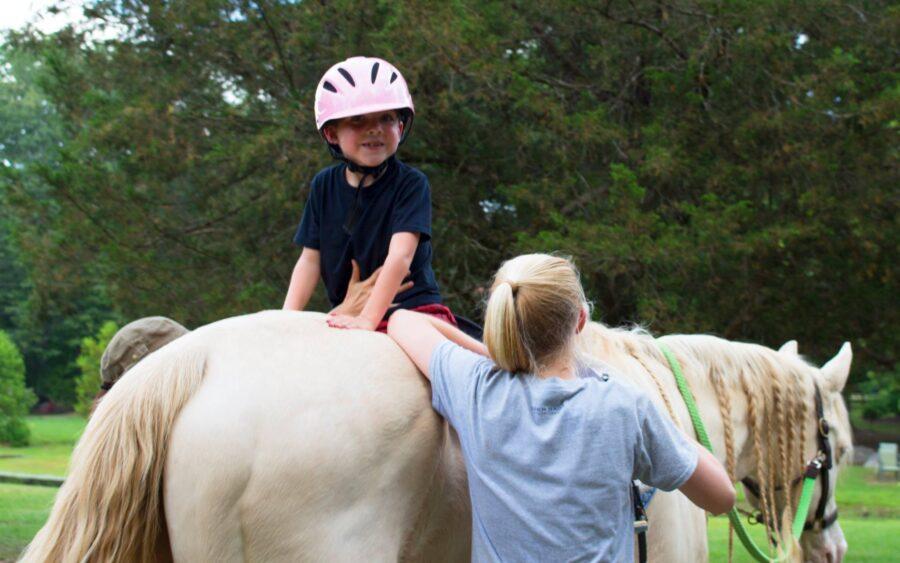 The Search for Help
Even before Gabriel had an official diagnosis, we were seeing signs of developmental delay. He was late to walk, struggled with some fine motor skills, and was very delayed with his speech. For the first two or three years of his life, every verbal communication was monosyllabic. He would not answer questions with "yes" and"no." He did not really respond to directions. In spite of our involvement with early intervention and his pediatrician, we felt like there was something more we could do. In speaking with other parents, I know this is a common sentiment. This was frustrating, because we weren't certain where to look outside the medical community.
We passed a horse riding place every day on the way to school and Gabriel began pointing out horses.  In an effort to expand his team of therapists, we started working with Puzzle Piece as a supplement to his services. Renee from Puzzle Piece noticed Gabriel's fascination with horses, and was delighted when we asked about equestrian therapy. We immediately found one program, but we were told the wait list was years. YEARS!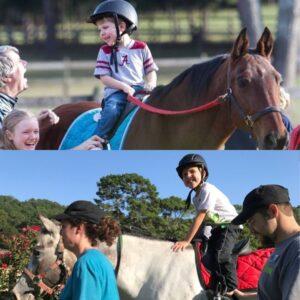 Putting Two Words Together
When The Red Barn was really starting to put roots down, Renee mentioned she had worked with Joy in the past, and suggested we call her to inquire about availability. From there, everything else fell into place like magic. Gabriel was able to start riding soon thereafter; he had just turned 4 years old. Both he and our family fell in love with the staff, the barn and most important: the horses.
What was an interest became a passion. If there was a horse within 1,000 feet, Gabriel would spot it and point it out! I remember one time he proclaimed, "HORSE!" and I told him, "no buddy… I don't think that is a horse," thinking there was no way he could make that determination from so far away. We kept driving, and as we closed in on the location I gasped. "Gabriel – that IS a horse! How did you know from so far away?" The answer was obvious. "Horse. Barn." I laughed. He laughed.  
He loves it here. It is impossible to come up with just one story to share because there are so many. Gabriel's lessons are filled with smiles and laughter. There have been so many wonderful volunteers and staff members that have connected with him and helped him. The Red Barn is the first place he put two words together when he one day told a horse to "walk on." There were tears of joy and gleeful clapping! He has ridden backwards, trotted through most of his lesson – thank you handlers and side walkers for those – and even ridden a miniature pony during our time here.
He looks forward to it every week and knows when I get him from school on riding day that we are heading here. He has gone from finally putting two words together to helping direct his lessons. It is amazing the growth he shows every time he comes.
What Has Changed
Riding helped Gabriel develop more core strength, has helped with following directions and discipline, and believe it or not, continues to aid him with his verbal development. Gabriel grew with The Red Barn.
Now, in addition to "horse," "walk on," "let's trot!" and other commands, Gabriel can also tell you if he wants to go ride in the barn or do the pirate trail. He can tell you what horse both he and Arya rode that day. He can tell you he wants "chicken and fries" or "'roni pizza." Decision making, following directions, vocabulary, the strength to jump up and down…  a lot of kids take these things for granted. At The Red Barn, every new accomplishment makes our hearts soar, and when I think back on everything we've worked on in 8 years with Gabriel, I genuinely believe that we are far, far better off with Gabriel having a favorite place to be, around his favorite people with his favorite animals.
Now Arya Rides Too!
His sister, Arya, and I used to sit on the sides at every lesson and play with the trucks or jump in the puddles after it rained or walk around and say hello to the horses in their stalls. One day, she asked Ms. Joy when she would be allowed to ride too and now, luckily, she rides as well. She loves coming here. She loves learning and is so proud of what she accomplishes every time.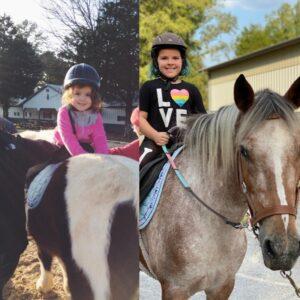 We have grown with the barn over the years, from being able to get into lessons immediately to there being a wait list and triple the staff. All of the people we have encountered have met the diverse needs of both of our children, as those have continually changed. They facilitate shifts with laughter, joy, and fun, and it is amazing to watch and be part of. We are lucky to be part of The Red Barn community and I am so glad they are part of my children's lives.
– Gabriel and Arya's mom and dad
Interested in volunteering? Get more information here or contact us.
Want to help more kids like Gabriel and Arya ride at The Red Barn? Give now!