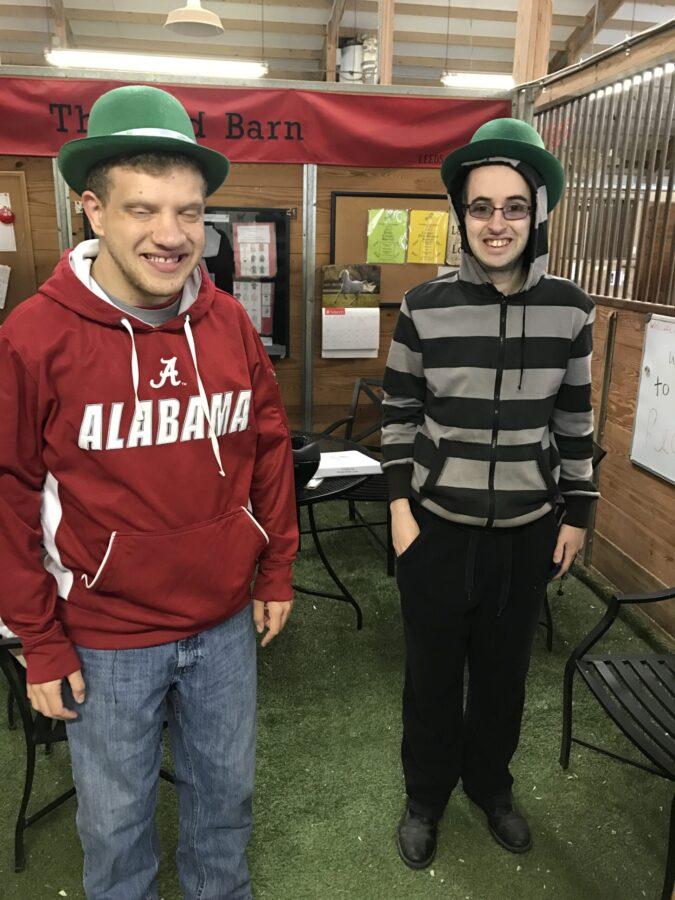 "We had tried most everything to bridge the communication gap caused by Lee's autism, but it wasn't until The Red Barn that we were truly able to communicate clearly and effectively. The Red Barn has helped Lee develop confidence, independence, and the ability to work well with others." -Lee's mom
For five years now, our students Nick and Lee have been coming to The Red Barn for their weekly workgroup. Every Friday morning during terms, Nick and Lee labor alongside staff and volunteers to make sure the horses are cared for and the property is beautiful. The workgroup was designed to enable some of our older students to experience a routine work schedule and list of chores to complete within an allotted time. The goal is to help students reach a higher level of independence in their home lives. We also hope to build their confidence and skill set to one day enter the working world.
Nick and Lee's first few terms introduced them to a wide set of chores, which they tackled with staff assistance. Examples of these tasks include cleaning water troughs, scrubbing and refilling horse feed and water buckets, cleaning the goat pen, and many, many others. Staff and volunteers would lead the two boys through these tasks, breaking the tasks down step by step. Slowly, the staff stepped back, encouraging the boys to lead the transition from one step or task to another.
Growing Independence
As the staff have slowly stepped back, Nick and Lee have blossomed. Their independence has grown with every term. One morning, as staff offered our normal assistance to muck Black Flight's stall, Lee replied, "Actually, I have this one by myself, thank you though." He quietly toiled away, finishing the stall without any assistance. A short while later, Nick waved the staff help off when we grabbed brushes to help them scrub water troughs.
Both students have also participated in multiple terms of The Red Barn's Job Skills program. Job Skills is a more formalized version of their workgroup. The instructor introduces and coaches participants on the soft skills required for employment. Such skills include courtesy, personal appearance, time management, and showing initiative, among others. Most sessions have anywhere from five to ten participants. Teamwork and communication are strongly emphasized so participants will have experience working with others before they enter the working world.
The Job Skills program has greatly accelerated both Nick and Lee's growth and independence. Staff no longer directly assist in their tasks, but merely oversee their work. Nick and Lee are now capable of thoroughly completing every step of a task without issue. They may occasionally need a reminder to stay on task when they get too talkative, but their chattiness reflects another way they've grown.
A Budding Friendship
"I have truly enjoyed watching their friendship grow over the years. They have both developed into such kind, thoughtful, and hardworking young men." – Becky Shuler, Nick and Lee's volunteer helper
Back when the workgroup first began, Nick and Lee would only speak a sentence or two to one another before moving on from the conversation. As time went on, they began joking back and forth, as Nick often asks Lee if he has ants in his pants or the time Lee pretended to be a hitchhiker while Nick rode back to the white barn to dismount. I can't help but laugh along with them, largely because of how genuinely funny they are. But it is also because I am thrilled seeing them feel comfortable and confident enough to emerge from their shells. The two have become close friends not only to each other but also to the staff and volunteers they work beside.
Nick is a huge Alabama fan and was dismayed to see me wearing an Auburn cap one day. Since then, he often takes friendly shots at me whenever I have any sort of goof up, saying, "Connor, you Auburn fan!" Nick also has a near-photographic memory. If you tell him something that he interprets as important, he will check on it every week. He met my parents at the 2016 Red Barn Christmas party and still asks how they are doing every week.
Lee loves technology and science-fiction, especially space travel. He has brilliant ideas for different robots and schematics he could design to make life easier at the Barn. He even came up with his own idea for a novel called "Terror in Space," which he plans to adapt into a movie. Before lessons and during work breaks, he will regale us with fine details of the plot. However, when it is time to work, Lee will lock in and focus on his task (until he gets asked if he has ants in his pants).
Learning to Ride
Since 2017 Nick and Lee have been taking a joint riding lesson. Lee did ride for a few years prior to the workgroup, so he often serves as a positive role model in carrying out their instructor's directions. Lee rides with only a horse handler and is working towards steering his horse off lead at the walk. For his part, Nick does a great job following his friend's lead and has shown steady improvement. He initially struggled with leg cramps that would lead to early dismounts. But he has built up his leg strength and balance to the point he can stay on for the duration of an hour-long lesson without any pain.
Friday mornings are a highlight of my time here at the Barn. Seeing the two friends embrace before parting ways after each lesson encourages me to reflect on my own journey here. I hope to continue working alongside both Nick and Lee much more in the future. Watching the two of them grow has been one of the most fulfilling experiences I have had since beginning work at the Red Barn.
–  Connor Samples