You know how a box of Valentine's Day chocolate is like a gamble? Like a gamble that you ALWAYS win because ALL of the chocolates are delicious? That's kind of what our donors are like. We have lots of different flavors of donors, and they're all precious to us!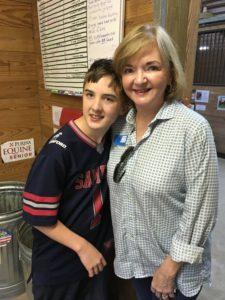 There are event sponsors, monthly donors at all levels, end-of-year donors, Facebook donors, Facebook birthday fundraisers, memorial and honoraria donors, people who give up their birthday money to support the barn, family foundations that give monthly, family foundations that give a few times a year, small businesses that donate, large businesses that donate, people who give through their employer's United Way campaign. The list could go on forever!
So what do all of these amazing supporters have in common? Our donors love the mission, love the people, and LOVE seeing how impactful their donations are in the lives of our students!
Naturally, we need to hear it "from the horse's mouth." We asked, "Why do you give?"
"I give because of the huge difference The Red Barn makes in the lives of their students and the families that benefit from the impact."
"The needs that are met by the staff and resources at The Barn are too numerous for me to name, but the number of people who reap the benefits more than justify any donation."
"If you visit and observe how many people invest in each child, each horse, and each lesson one would come away so impressed and grateful!  Everything is handled and planned for on such an organized and professional level. I am challenged to do something in response."
"Their mission, the level of quality, the way they impact lives."
"I know the people and ministry behind the Red Barn. I trust in their calling and know God is making a difference in families because of The Red Barn."
"The great impact the programs have on families and the need to serve more families."
The heart of these donors is to make a difference, make an IMPACT in the lives of our students and their families. All of our staff, parents, volunteers, and students are so very grateful. Take a moment and watch some videos of life-changing transformations on our YouTube channel today! And if you find yourself inspired to give any amount, give here.