I Love The Red Barn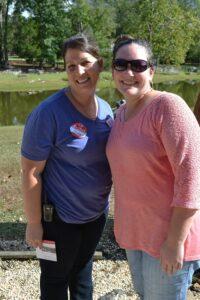 I love The Red Barn. I'm sure that you do too, but I REALLY love The Red Barn. I love the people, the property, the organizational structure, the organization, the inner workings, the mission, the children, the horses, the cats. I LOVE The Red Barn. Everything in my life brought me here and prepared me to contribute to the success of the barn. 
As a child, empathy was my downfall. I felt everything that I thought everyone else was feeling, and I felt it deeply and sometimes to my detriment. Other people's struggles became my very own. Anxiety and depression became my constant companions, and I was not okay. The worry was absolutely never-ending- worry about my parents, my siblings, my safety, my pets, my friends, my grades, my home, my extended family, the WHOLE world and all of its problems. 
Experiencing trauma as a young teen catapulted me into new depths of despair. An eating disorder, suicidal thoughts, prescription drug abuse, and moral decay brought me to rock bottom. Finally, therapy and medication became my new constant companions, and I survived high school and college. 
During college, my husband and I decided that we could not wait to get married. So, we didn't wait. We married at 20, I continued on to graduate from UAB in 2002, and suddenly we were expecting a baby! Gabriel Michael was born on July 9, 2003 at St. Vincent's Hospital in downtown Birmingham. Becoming a mother changed my future career plans because I absolutely could not handle crime scenes, forensic evidence, or the details of people hurting each other anymore. That Criminal Justice degree wasn't going to cut it! 
Entering the Nonprofit World
The Master's of Public Administration program at UAB drew me in as the dreams of helping people in an administrative capacity unfolded in my mind. Not direct service, not counseling, not too close to the hurt and pain, but still doing my part to make the world a better place. 
God surely knew what He was doing guiding me here! I began graduate school and quickly started interning for nonprofit organizations. A short stint with a large, international nonprofit solidified for me that a small nonprofit was the way for me to go. Pretty quickly, I was placed in an internship with a small nonprofit in Birmingham, an agency that served homeless women and their children. Right where I was supposed to be.
That internship turned into a full-time job and a career in nonprofit. While managing volunteers, working intensely with fundraising, writing grant proposals, organizing events, and managing donor data, I learned so much about nonprofit work and myself. I also met Joy O'Neal. 
Joy served as an active board member for this organization, and thankfully we had lots of dealings with each other. A professional acquaintance grew into a friendship. I had an enormous amount of respect for Joy and her contributions to the work.
Funny fact: Somehow, Joy and I have managed to know each other for 18 years and don't have a single picture of just the two of us!
Miracles Still Happen
When her family opened the barn, she invited me out to a ladies night. For the first time, I got to be close to a horse. Wow! I fell apart! Apparently, as I was grooming and painting Glory, my heart rate slowed to match hers, my defenses came down, and I began to unravel as I relaxed and processed life. Parenthood was hard, bringing an unbelievable amount of anxiety and worry to my mama heart. 
Then, my son began riding at the barn. He was struggling with some of the same issues I had as a child, and riding really gave him another focus, something to be successful at, and time away from all that he was carrying. Being at the barn was an effective outlet for him, even though he didn't follow directions and got stepped on the first time he came to the barn!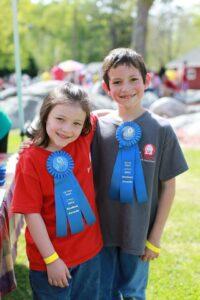 In 2012, my husband and I decided that it was time for a change of pace. Slower, closer to home, and less stressful were the goals. We also wanted to eventually homeschool our children. I wanted to be more "at home" if that makes sense. Lofty goals that we had not been able to reach for a couple of years due to financial responsibilities. Well, the stars aligned, and we paid off all of our debt almost simultaneously with Joy's family opening The Red Barn. 
Seriously, it was a miracle. It was "supposed to" take 7 years for us to pay off our debt (making it 2017 when we were done). Instead, it took 26 months! Joy asked me to come and work at The Red Barn. To say that I jumped at the opportunity would be the understatement of the century. The barn was 9 miles from home. It was small, beautiful, peaceful, serene, special, and had an amazing mission. It was perfect. AND Joy was running it. Bingo! I hit the job lottery!
I Am Grateful
Over the past nine years, our lives have changed drastically. My best friend, Grace, joined the team as I transitioned to working part-time to be at home more. Yes, this means that I get to work with my best friend. We did start homeschooling our kiddos in 2013. The Horsley family no longer lives in Alabama but instead in Gulfport, Mississippi. Almost all that I do can be done from home, so I am still on the bus, as we often say thanks to Joy's fondness for Jim Collins' books!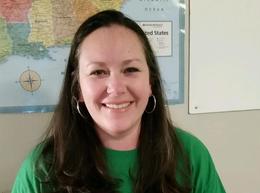 Working from home 5 hours away from the barn is challenging. Virtual meetings are just not the same as being in-person, face-to-face, eating meals together and chatting about small things that end up being big things. I miss the camaraderie, seeing the pristine property every day, petting Xena and having her hiss at me, meeting the new horses, watching them graze, seeing the kids' faces light up as they achieve something new, driving up in the morning and seeing deer in the pasture with the horses. It cannot be wonderful for everyone at the barn for me to be so far away either, not as quick to handle things as I could be if in the office. Yet, we all make it work.
I am so grateful that my experiences as a child gave me an understanding and compassion for the kids we serve. I am so grateful that college pushed me to the nonprofit field. I am so grateful that I get to serve such amazing people with such amazing people. I am so grateful that I get to continue learning how to do this nonprofit thing from a leader like Joy. I am so grateful that I get to watch, from the inside, how a nonprofit can grow, adapting to the needs of the community and the climate of the culture. 
I am so grateful, and I LOVE The Red Barn.