We love teaching. We believe in helping others learn how to facilitate healing with the aid of horses. Equine-assisted therapies are effective, not to mention fun, so why not be excited about teaching up-and-coming professionals in the field?
We also LOVE OUR VOLUNTEERS! Volunteers provide essential hands during lessons and camps, contribute new and fresh ideas for our programs, assist in the strategic planning process, and help us to pull off special events.
These two passions converge in our internship program. Every year, the best of the best college interns grace our barns to lend a hand while gaining invaluable professional experience. Interns are invited to participate in everything- the day-to-day of running a barn and caring for horses, planning camps and classes, attending staff meetings, giving input on important decisions, and of course, serving our adorable students.
Here's a glimpse into our two amazing interns "on staff" right now.
Hello!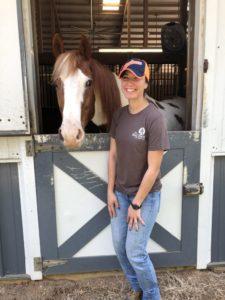 MaryBeth Knapp is a 22-year-old, horse-loving, Huntsville native. She earned her Equine Science degree from Auburn University and is now working to become a PATH certified instructor. She first learned about The Red Barn while studying at AU, and we are so grateful that she liked what she learned!
MaryBeth is now interning at the barn at least through the summer. She already has the riding experience needed for her future career since she began riding dressage when she was only 10 years old. But now she is getting experience working with people of all abilities while assisting during lessons, helping care for the horses, doing barn chores, and even helping with camps and social skills classes!
Please help us welcome MaryBeth if you see her around the barn!
Goodbye… 🙁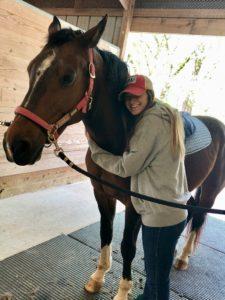 Emily Davidson is a 24-year-old Masters of Social Work student at the University of Alabama. She was born in Florence and received her bachelor's degree in Social Work from the University of North Alabama. She grew up with horses and knew that she wanted to help people and work with vulnerable populations, so it was not difficult to put the two together when she toured The Red Barn last year. Wasting no time, Emily immediately asked Joy about the possibility of an internship. No surprise- her internship began in January!
While interning at the barn, Emily has been helping with lessons and camps, doing needs assessments with the parents of our students, completing some of the never-ending barn chores, and she has also put together a resource guide for the parents of our students. (Pssst: You can look for that resource guide to be published here within the next week!)
Emily is breaking ground as the University of Alabama's first Social Work student to intern in EAT (equine assisted therapy). After graduating on May 4, she hopes to eventually use her love and knowledge of horses while providing services to those in need.
Please help us congratulate Emily on her upcoming graduation and thank her for all of the hard work she has put in at the barn! Leave her a word of encouragement on our Facebook page.
Your donations make it possible to share faith, hope, and love with children and train tomorrow's leaders of the equine industry.  Give today to continue doubling the impact of your donation to reach even more children and families in need.