The daily activities at The Red Barn would not be possible without the help of our incredible volunteers. One of the people behind the volunteers, Grace Butler, constantly ensures that there are enough people in each lesson, camp, and gathering. Her background is in teaching pre-school children, but her gift is inspiring the ones who make this job possible.
While Grace would never boast about herself, others can easily see the positive influence she has not only on the staff, but on everyone she comes in contact with. While the way she spends her days has changed over the years, a few things remain true:
if there is a microphone around, we're probably putting it into Grace's hands

if there is a camera around, we're probably asking Grace to stand in front of it

if there is a volunteer or donor around, she is probably giving them a big hug

and if there's anything good that can be said about The Red Barn, she probably has a hand in making it happen. 
During her initial interview process, it became clear to everyone that Grace was the missing piece in the Red Barn puzzle. What started out as training and scheduling volunteers has morphed into a new position at the barn, Public Relations Coordinator. She is now the face of tours at The Red Barn. As she walks around with the tour groups, she spiritedly recounts the story and history of each part of the property.  Grace is also the voice of the barn! She has lost count of the number of radio and television interviews she has done, but the rest of the camera-shy staff could not be more appreciative. 
Logistically, Grace would be very difficult to "replace." But speaking from a morale standpoint, her passion for the mission and the people at The Red Barn is irreplaceable. "Grace" is an apt name for her.
While she impacts everyone around her, Grace talks about how The Red Barn has impacted her as well. She says, "I have seen myself become confident. I no longer wonder if I can do it. Now, I think I could try anything." 
This confidence and determination comes from her experience with one of our students. One day, Grace filled in for a volunteer who was unable to make it to Suki's lesson. Suki suffers from a rare disability which causes her systems to gradually shut down. Despite her disability, Suki pushes through the physical challenges that come with horseback riding. Each lesson she practices trying to motivate her muscles to push herself up out of the saddle and then relax to bring herself back down. This task is not easy for anyone. It is a skill that riders have to work on and perfect for years. After a few months sidewalking in Suki's lessons, Grace witnessed what few thought possible: her posting at the trot. Suki did it with incredible strength and poise, leaving Grace in awe.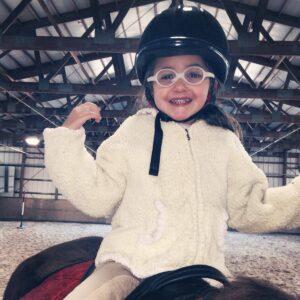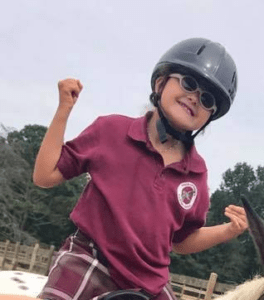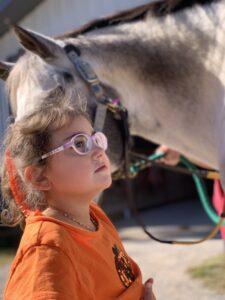 Suki through the years…
This determined little girl accomplished her goal and reminded Grace that she could accomplish anything, too. It is a story that Grace will never forget. Whenever she feels like she can't do something, she thinks of Suki and knows that she can.