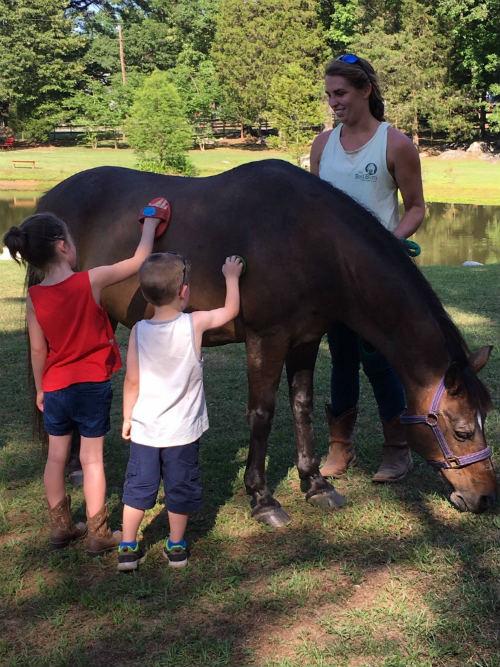 No Care in the World at the Barn
James laid across the hammock in front of the white barn, relaxing as his instructor, Barratt, gently rocked it back and forth. His sister, Lily, returned from a visit to see the goats and bunnies on the lower half of the property. She was hand-in-hand with her instructor, Alexis, who bent down to listen as Lily whispered something into her ear. Both children were giggling wildly, without any apparent care in the world. 
For years, James and Lily's mom questioned whether this day would ever come. Repeated traumas threatened to steal their childhood innocence and no amount of traditional therapy seemed able to repair it. The two experienced a wide range of after effects, from separation anxiety to generalized anger, which only seemed to worsen with time. A family friend recommended The Red Barn. 
A Safe Place to Belong and Learn
Lily, an avid animal lover, was instantly hooked. She found that she was able to bring her love of stuffed animals to life while simultaneously gaining confidence and independence. At the barn, Alexis encouraged Lily to make her own decisions, whether that meant choosing her horse for the week or choosing which direction she wished to ride. The Red Barn provided Lily a safe place to belong and be herself, which translated to other areas of her life. Though still shy, she no longer dreads going to school. She learned to actually enjoy it.
James was slower to attach to the barn. Unlike Lily, he was initially afraid of the horses; to a boy of barely five, they were larger than life. That all changed when he started taking weekly lessons. He began by establishing a close bond with Barratt over their mutual love of nature. James excitedly examined rock after rock by her side, as she shared a constant stream of information which he soaked in like a sponge. As he grew to love and trust Barratt, he also grew to trust the horses. James had confidence that Barratt would never place him in harm's way. After weeks of ground lessons, he finally agreed to ride. He then began riding weekly, with each session being just a little longer than the last one. At the barn, he got to quench his constant thirst for knowledge while regulating his emotions through riding and playing. 
Therapeutic Benefits of Riding are Undeniable
Neither James nor Lily was comfortable establishing boundaries of their respective comfort zones, and they each had to learn the value of the word "no." Outside of home, Lily would merely shut down, while James was more likely to act out. Each is now willing to speak up when asked to do something they don't feel comfortable doing. They learned to be assertive.  
Mom largely attributed their success to the relationship between instructor and child; without the support and trust of their instructors, neither James nor Lily would have ever been willing to get on a horse. She believed the therapeutic benefits of riding, however, are undeniable.  
I have heard that horses help with kids who have been through trauma. I have noticed in our own involvement in lessons that it has given my children confidence. They work with an animal that is so much bigger than them. The instructors empower them and help them realize they can do anything they put their mind to. Riding the horses gives them a sense of control because they think they are the ones steering the horse, even though the horse is under control of the horse handlers. Everything about the lessons help them not only in their barn work, but also at home.  –James and Lily's Mom
These benefits only seemed to increase over time, as each child spent more and more time on horseback. Although the physical benefits of horseback riding were clear, James and Lily illustrated the emotional benefits, as well. 
Something to Look Forward To
As they headed out the barn's gates, James and Lily reluctantly waved goodbye to Barratt, Alexis, and all of the horses. Until they returned, they wouldn't stop thinking about what the next visit would hold. James wondered which rocks and plants Barratt would show him under the microscope. Lily looked forward to wrapping her arms around Mazie, her favorite horse of the week. Mom slept a little easier, knowing her kids had found a home-away-from-home.