What does it take to have an amazing spring term?
Our spring term begins on Monday, April 2! We are so excited about the beautiful weather and to see the smiling faces of our students. But have you wondered what it takes to "pull off" a spring term at The Red Barn?
Admin Team
Let's start with the administrative side of things. First, the previous fall term's students are contacted to confirm that they'd like to return for the spring. Then their day of the week and time for their lesson are both confirmed and the student is placed on the spring schedule. Once the returning students are scheduled, the waiting list is examined to determine if there are any availabilities that match an open time spot with an appropriate horse and instructor.  Click here to read more about our waiting list. At the same time, staff schedules are also being planned for the term and updated student paperwork is received and processed.
Programs Team
Instructors discuss riding goals with the parents and students as well as determine how many volunteers will be needed for their lesson if any.  Available volunteers are paired up with the students who need them the most. Meetings are scheduled so that student, parent, volunteer(s), and the instructor can meet and get familiar with each other. This allows students to be more comfortable with their lesson helpers, volunteers to be better prepared, instructors to know what to expect, and parents to share their goals for their child's upcoming term.
Once lesson goals are decided they are entered into the database. Contact information is used to invoice parents. Lesson plans are created based on goals for students and shared with necessary staff members.
Is a theme coming through here? Personalization! Experiences are tailor-made for our students, factoring in all available information for the utmost safety, efficiency, effectiveness, and FUN!
Annual tasks are being completed at this time as well, such as preparing information for the 990, compiling the program evaluation for the previous year, and developing the annual report for the previous year. All of this while carrying on the year-long duties of paying the bills, fundraising, planning events, conducting tours, fielding new calls of interest, screening and training new volunteers and interns, and helping other similar agencies start up or improve their programs.
Horse Team
Now let's talk about the horses. I mean, we couldn't do what we do without them! Most of the horses haven't been riding the trails over the winter, so our horse team is working with them to become familiar with the trails again. Mock lessons are being done so that our equine staff members are refreshed on how to do their jobs! Now that the days are getting warmer and the nights aren't quite so chilly, the horses are being rotated to their spring/summer pasture rotation of being inside the barn during the day and out at night.  In preparation for the spring, the horses (and staff members) are being worked pretty hard so that they are all in their very best shape for our students.
Operations and Property Team
And what would a visit to The Red Barn be without being able to take in the gorgeous, peaceful sights?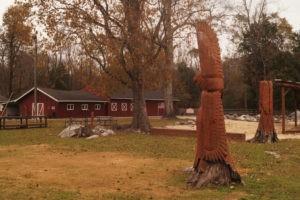 There are pastures to be seeded, grassy areas to be trimmed, weeds to be sprayed, tree limbs to be picked up, trails to clear for safety, sidewalks to edge, fences to mend, and structures to be pressure washed! The list goes on!
While you might be thinking that this sounds a bit exhausting, we think that it sounds like a normal season at The Red Barn. This is what we do: plan, clean, cut, clear, organize, strategize, update, PLAN, PLAN, PLAN. All for your kiddos because we know that having a place to feel loved and accepted can make all the difference in the world.