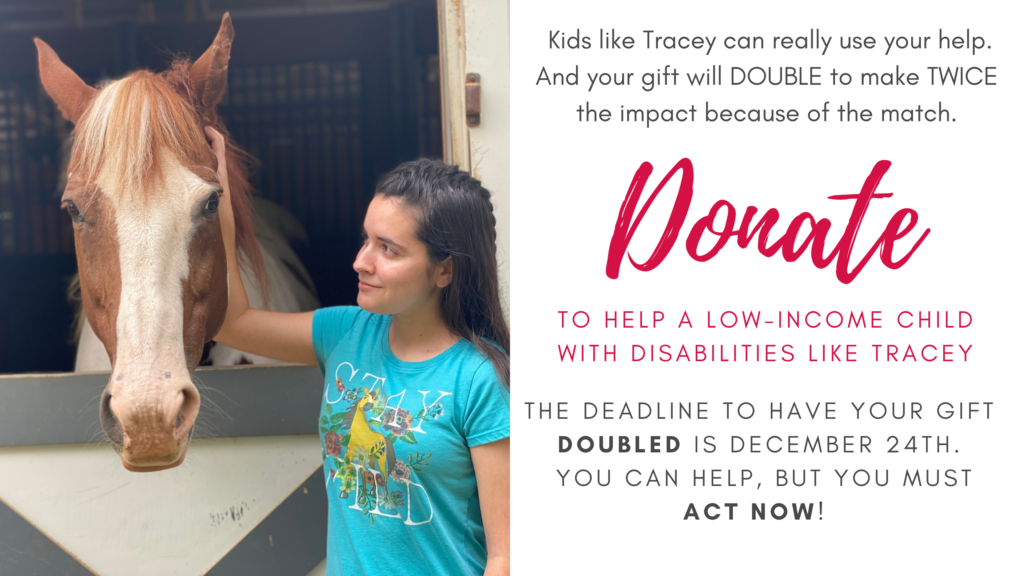 Today, we are asking you to give a gift to help a child with a disability from a family that needs financial assistance.
The pandemic has caused unimaginable anxiety and trauma for children and families; read more here.  Families are desperately seeking help for their children.
Let me tell you how your gift will help a child like Tracey.
Tracey has auditory processing disorder, autism, and anxiety disorder. This means she has difficulty understanding verbal information and communicating if she needs something.
Her mom knows that Tracey would benefit from interacting with and riding horses at the barn, but she doesn't know how she can afford riding lessons.
The challenge has been made even worse due to the pandemic.
A generous donor has stepped up to help children like Tracey, and so can you. The donor recently offered to match your gift dollar-for-dollar, up to $50,000. But you have to make your gift before December 24th to take advantage of the match!
Will you give by December 24th to help a child like Tracey?
Your gift will allow Tracey to ride a horse and work on important skills that she needs to be successful. Skills like improving her core strength, self-esteem, confidence, communication, and interpersonal skills.
Every hour a child like Tracey is on horseback is an hour where tremendous confidence is being built, but that is at risk due to the pandemic and the costs associated with running our programs.
Kids like Tracey can really use your help. And your gift will DOUBLE to make TWICE the impact because of the match.
But it is urgent that you give before December 24th to ensure these children and families receive the essential services they need. 
The pandemic has added additional financial stress on our ability to serve the kids and care for the horses. And for a variety of pandemic-related issues, it costs more per hour for a child to ride a horse.
Your gift will make a life-changing difference to Tracey and others who have a disability and who are from low-income families.
While you are reading this, would you send in a gift? You'll love knowing you have helped a child with a disability in their time of need.
Please send your gift to help today!
Sincerely,
Joy O'Neal, Executive Director
p.s. To give online, click here! You may also mail a check to The Red Barn at 2722 Bailey Road, Leeds, AL 35094.