Liliana- Not Afraid
Liliana has been in physical and occupational therapy since she was three. It took her two years to walk on a 1.5 inches high balance beam because she was so scared of falling. This fear translated to the barn, where she was hesitant to ride during her first lesson. She soon mounted Blue, though, and relaxed almost immediately.
Over time, Liliana has become fearless. She looks forward to her lesson every week and can't wait to get back on the horse. Her mom, Rebecca, said she is so relaxed that you would think she has been riding for years. The barn gives Liliana a sense of connection and peace. When she is at the barn, she is no longer stressed or afraid.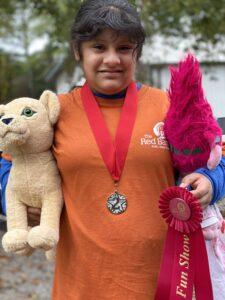 This confidence has translated to other parts of Liliana's life. For example, going to the dentist used to be a traumatic experience for her. Since she has been riding, she no longer has meltdowns at the dentist or the doctor's office. She now has the confidence and bravery to make it through new, intimidating experiences. Liliana is also willing to try more things in physical therapy. She understands and accepts more challenges. 
Liliana has responded very well to her instructors, and to the fact that her instructor has changed several times over the years! Their patience and encouragement has helped her understand that she can do anything she puts her mind to. 
Rammy- Transformed!
When Liliana's riding lessons were moved to a different day of the week, her mom, Rebecca, was excited to meet some of the other Red Barn families. On the first Saturday of term, Rebecca approached the barn and found that it wasn't all strangers. A woman was staring at her – a woman who looked oddly familiar.
"This may sound weird to you, but did we meet at a Target?"
Both women laughed as they realized the connection. Nearly five years prior, the two had met in the baby clothes section of a local Target. At the time, both were shopping for the adopted babies who would soon be coming home with them. They chatted for a while about their excitement, thrilled at the random opportunity to get to share it with a stranger who understood. Eventually, however, the two moms-to-be parted ways to continue their shopping. They did not expect to see each other ever again.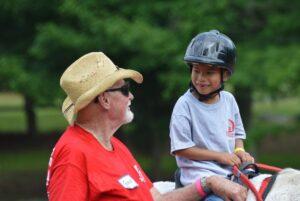 Rebecca formally introduced herself to Kimberly, whose son Rammy was also taking lessons at The Red Barn. They caught up while their children rode, unaware of how their two stories collided. Rebecca and Kimberly marveled at the way The Red Barn was able to act as so much more than a riding facility for their families; it provided a unique sense of community and support, as well.  
As for Rammy, he developed stronger confidence, communication skills, and focus riding at The Red Barn.  He also improved his core strength and muscle tone. 
"I sincerely believe in the physical and cognitive benefits of riding because I've seen it with my own eyes. The barn has transformed his life. I don't know what we would do without it!"