"We are so thankful for The Red Barn. Blake works so well with y'all and everyone at the barn works well with him. We love that you have the Saturdays where he can show family what he has learned. He won a first-place award in the fall. Blake was so humble when he said 'It wasn't about winning, it's about having fun.'" – Blake's grandmother, Margarita Roe 
Blake lost his father at 6 years old. He was then adopted by his grandparents, who quickly saw the overwhelming grief was affecting Blake at a very deep level. A typically polite, gentle, and patient boy, he withdrew within himself and began needing frequent redirection in school. To help him overcome and properly express his grief, Blake's grandmother Margarita began searching for help. That was when a family friend mentioned The Red Barn.
Margarita was instantly intrigued. Blake's late father owned a horse, which Blake often rode as a young child. Margarita hoped the barn could be a place that could not only help Blake to heal from his grief, but also allow him to better remember his dad and the happiness they shared in outdoor activities such as fishing and riding horses. 
Blake began riding at The Red Barn in 2017, and in his own words calls it, "my happy place." Margarita also grew up horseback riding but has been amazed at how much love and care the barn exhibits in teaching its students and caring for its horses. She says The Red Barn is like a big family, and that she also feels at peace when here.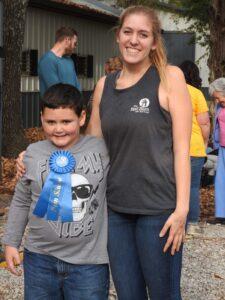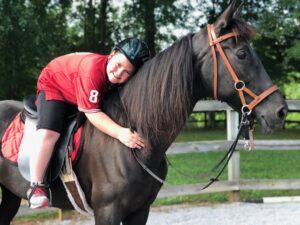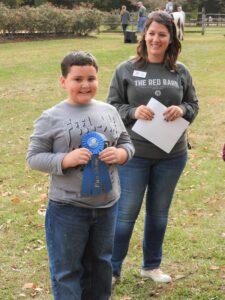 Not only is the barn a place where Blake has found peace and happiness, it has also fostered personal growth. Having ridden here for more than two years, Blake is one of our more experienced riders and has graduated beyond the need for sidewalker assistance. He's also ridden a number of different horses at the barn. One of the moments that best reflects Blake's growth was clear when he began riding Luna. 
Luna was new to the program at the time, so she wasn't as accustomed to the different patterns or routines as Blake's previous horses. Blake was also growing more independent and needed a horse that would challenge him to properly communicate. It was a match made in heaven, though it certainly didn't come without its challenges. Early on, Blake struggled to steer Luna in a pattern, particularly when guiding her in circles around a barrel. Despite the difficulties, he didn't get frustrated, nor did he ever blame her for the miscommunication. Blake noted to his instructor Sylvie, "Steering Luna is a lot like talking to a new friend." With practice and perseverance, Blake and Luna broke through and were able to properly understand one another, and the two are now great friends. 
The Red Barn has enabled Blake to grow in ways outside of riding, too. Blake expresses his appreciation through acts of service and prefers to clean his horse's stall or refill their water bucket while his volunteers get his horse groomed and tacked. His assistance with chores at the barn has carried over to his home life. Margarita says Blake is more mindful of helping around the house and is more organized in all aspects of his life. 
Perhaps the moment that best reflects Blake's growth and healing from his time at The Red Barn came during the 2019 Fun Show. Blake felt extremely nervous on the day of the show and even asked his instructor if he could pull his name from the show. Fortunately, his grandfather convinced him to push through his fear. Not only did Blake ride, but he won first place in his class. He was overjoyed and showed his blue ribbon to everyone. The sense of accomplishment was palpable. 
Though his father may no longer physically be with him, Blake understood he was watching, too. And the first words Blake said after receiving his ribbon? "My daddy would have been so proud of me."